Who needs insurance? The simple answer: most adults. You're in your twenties, healthy, and in a great career. Heck, you did the Grouse Grind last weekend and felt great. What could possibly go wrong, right?
Not necessarily.  Whatever your age, it's always better to rest insured. Here are several kinds of insurance to consider at different stages in your life.
The early bird gets the worm (or the best rate on insurance).
The truth is, the earlier in your adult life you buy a life insurance policy, the less you'll pay both long- and short-term. That's because early in your adult life you'll have the least assets and hopefully the lowest income. But your greatest asset is that potential income you'll continue to earn as long as you're healthy and able.
So the best time to get insurance is now, and not when you're golfing on a Palm Springs golf course post-retirement.
Insurance to consider right out the gate.
The two most important types of insurance to consider early in your adult life are critical illness insurance and disability insurance. In the unfortunate circumstance of significant injury or a serious diagnosis, you'll need some money to recover so you don't need to work. If recovery is exceptionally long, then having an income to support you for many years is really important.
Disability Insurance
The great part about a disability policy is that you can elect to have it grow with you. The younger and healthier you are when you get your policy, the less expensive it tends to be. You can obtain disability insurance while you're completing a professional program, or once you're working in the career of your choice.
Critical Illness Insurance
You can get critical illness insurance once you start working and have an income. Policies can be set up for temporary coverage, like 20 years, or can be set up to cover you until you're 75 or older. Longer policies cost more, but the cost stays the same throughout the policy.
Remember that both of these types of insurance might be supplied by your employer. Check with them before you reach out to an insurance advisor.
Insurance to consider when starting a family
Financially supporting people other than yourself is a significant responsibility. While you still want to make sure that your own lifestyle can be supported in the case of an unforeseen circumstance like illness or injury, you'll need to make sure the lifestyle of the people you're supporting stays intact as well.
Insurance to consider when buying a house
A house is by far the biggest debt of your life (albeit good debt). It's a huge step and a big responsibility. This milestone would mark a good time to consider life insurance. If you have no dependents, life insurance may not be the right option at this time since if you were to pass away, you wouldn't be burdening anyone who relies on you financially. However, if someone would suffer financially from your passing, then you should consider how you would transfer this risk. Sound like you? Life insurance may be something to consider.
Later steps in life.
As you pay debts down (or off completely) and your children move out, there may be more disposable income to focus on putting away some savings and investments.
This is a good time to consider updating your wills and Power of Attorneys. This will ensure the assets you've saved so diligently for will be distributed as per your wishes. To mitigate any potential taxation issues associated with your investments, you might want to re-visit your insurance policy coverage.
A new estate planning insurance policy, or a conversion of your existing policy if possible, may help pay for a number of expenses that may come up. Things like tax on your RRSP/RRIF, tax on transferring a business, capital gains tax, or creating an inheritance or charitable gift.
Members get friendly help planning for the unexpected.
Our Mobile Insurance Team will take the time to understand your situation and provide solutions based on your specific needs, goals, and budget. They'll also tap into a wide network of reputable insurance providers to find the best possible products and rates on your behalf. And, they'll even come to you where you are. Because, well, they're mobile. Book an appointment with them here.
The stuff we have to say.
Coast Capital Savings Federal Credit Union provides advice and service related to deposit, loan and mortgage products. Coast Capital Wealth Management Ltd provides investment and financial planning services. Coast Capital Financial Management Ltd. provides advice and service related to segregated funds, annuities and life insurance products. Worldsource Financial Management Inc. provides advice and service relating to mutual funds. Mutual fund values change frequently and past performance may not be repeated. Commissions, trailing commissions, management fees and expenses may all be related with mutual fund investments. Important information about mutual funds is contained in the relevant fund facts and simplified prospectus. Please read the fund facts carefully before investing. Only deposits held in Canadian currency, having a term of five years or less and payable in Canada are eligible to be insured under the Canada Deposit Insurance Corporation Act.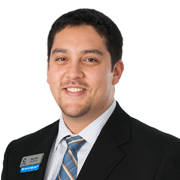 Tyler Saito, Regional Manager, Investments and Life Insurance
Tyler holds a master's degree in business administration. He enjoys playing and coaching softball with his two daughters and is a regular contributor on CTV Morning Live, explaining finances in an easy-to-understand way.